Wade C. Vose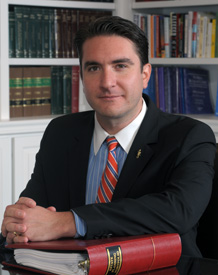 Wade Vose is a partner with the Vose Law Firm, and has years of experience representing govern­mental, corporate, and small business clients in the areas of local government represent­ation, business litigation, business law, and real estate and development law.
For his local government clients, he serves in roles such as City Attorney for the City of Bunnell, Chief Assistant City Attorney for the City of Deltona, and Land Use Counsel for the Town of Oakland. Most recently, Vose was honored to serve as General Counsel to the Orange County Charter Review Commission (a post previously held by former State House Speaker Dean Cannon and US Senator Mel Martinez).
For his business, corporate, and development clients, Vose has represented their interests before various state and federal courts and city and county commissions, as well at the negotiating table and in the C-Level boardrooms of multiple Fortune 500 companies nationwide. In addition, Vose has extensive experience running businesses of his own, having served as CEO of Vose Development Corporation, which has developed commercial real estate throughout Central Florida.

Among his many honors, Vose was recently named to the SuperLawyers Florida Rising Stars list for both 2013 and 2014, named "Businessman of the Year" by the Apopka Area Chamber of Commerce, and named one of Central Florida's 40 most influential people under 40 by the Orlando Business Journal.
Wade is a dedicated and loving husband to his wife, Jennifer Vose, and proud father of his three little girls: Emily - age 7, Isabella - age 5, and Olivia - age 3.
EDUCATION
University of Florida College of Law

J.D. with Honors, 2003
Book Awards:

Intellectual Property Law
Environmental Law
Family Law

Recipient of the Levin College of Law Leonard Scholarship
Certified Legal Intern - Eighth Judicial Circuit State Attorney's Office
President, Law College Council
Senior Policy Advisor, Board of College Councils

University of Florida

B.A. in Political Science, with Honors, 2000
National Merit Scholar / Florida Academic Scholar
Omicron Delta Kappa Leadership Honorary
President, College of Liberal Arts and Sciences Student Council

Bishop Moore High School (Orlando, FL)

Graduated with Highest Honors, 1996
Valedictorian
Student Body President
PROFESSIONAL
Florida Bar
Middle District of Florida
Northern District of Florida
Orange County Bar Association
The Federalist Society
CIVIC
Chairman, Orange County Neighborhood Grants Advisory Board (2006-present, Chairman 2008-2009)
Orange Blossom Trail Development Board
Board of Directors, Apopka Area Chamber of Commerce
Winter Park Rotary Club
Chairman, Issues & Government Affairs Committee, Apopka Area Chamber of Commerce (2008-2009)
Winter Park Chamber of Commerce, Government Affairs Committee
Vice President, Federalist Society, Orlando Division
Leadership Winter Park, Class 20
Leadership Apopka, Class 1
Leadership Orlando, Class 72
Orange County Young Republicans
Tiger Bay of Orlando
Board of Directors, Orlando Margarita Society
HONORS
SuperLawyers Rising Star 2013 and 2014
Apopka Businessman of the Year for 2008-2009
Orlando Chamber's BusinessForce Political Leadership Institute, Class 1
Orlando Business Journal's 2009 Forty Under 40 Award
PUBLICATIONS
Politics Proof Estate Planning and Asset Protection